"Passion and persistance achieves perfection..."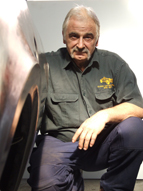 Car restoration became my obsession over time as I was fascinated by the shape and artistic style of vintage, veteran and prestige vehicles.

My main objective is to restore and recreate the cars that have been icons in the history of motor racing and have also grabbed the hearts of enthusiasts around the world. The men and woman who share that special attachment to a 'bucket of bolts with four wheels' will understand the obsession I have had for 40 years.