Handbuilt by Peter Tommasini, are proud to present a set of 10 instructional DVD's for purchase. With over 40 years experience in metal shaping, in each series Peter imparts his knowleadge and guides you through his innovative techniques and unique style.


DVD Series 10
Hot shrinking
Panel beating
File finishing

DVD Series 7, 8 and 9
Stretching and shrinking
Hand swaging
Hand forming

DVD Series 4, 5 and 6
How to make a rust repair section with hand tools
Gas welding, repair and metal finishing lesson
How to make a door skin using the English Wheel

DVD Series 1, 2 and 3
Basic shrinking and stretching metal plus Paper patterns
Using tools and Bulbous shapes
Making return shapes

All DVD's are now available for purchase by contacting us at tommasini@handbuilt.net.au. Payments can be made using PayPal, Creditcard or Money Order. Video formats include PAL and NTSC.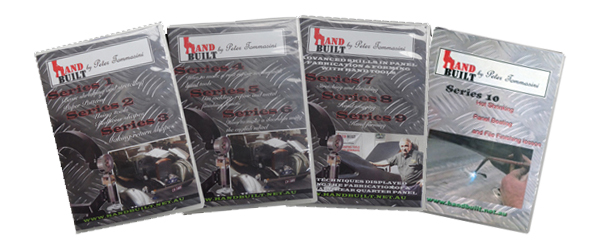 Australia (includes GST &amp Postage)
Series 10 : AU$52.00
Series 1-10 : AU$400.00

USA (includes Shipping)
Series 10 : AU$65.00
Series 1-10 : AU$410.00

Worldwide (includes Shipping)
Series 10 : AU$70.00
Series 1-10 : AU$415.00